| | | | |
| --- | --- | --- | --- |
| | | | |
| | | |
| --- | --- | --- |
| | | |

PROFILE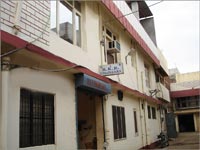 Established in 1990, under the aegis of Mr Bhupinder Singh and dynamic guidance of experience of 43 years with Mr. Ajit Singh Rattan, BKR Engineers is one of the leading and trustworthy manufacturer and exporter of a full range of parachute metal hardware. Our products are used for servicing military as well as commercial customers worldwide.
Utilizing the state-of-the-art technology, we manufacture high quality parachute forgings, that are extremely strong, to meet our customers' most stringent requirements. We operate a fully stocked store, together with a full-service room that is ready and equipped to provide custom work, no matter how large or small the assignment is.
An ISO 9001:2015 certified company, we have a proven track record of exporting precisely engineered products, that are backed superior customer service, in-depth industry expertise and timely deliveries. Together with our competent staff and understanding of the industry, we are increasingly making our presence felt in the international business arena.
PRODUCT RANGE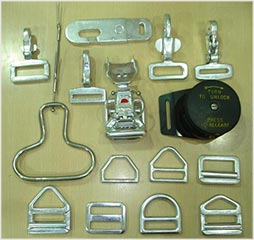 We have a comprehensive range of standardized as well as made to order parachute components. Some of the most popular items, from our product line are :

Our line of parachute hardware is manufactured from high tensile alloy Steel and various non-ferrous alloys. Customer's requirements are the major consideration at all the steps, from designing and manufacturing (dimensional specifications, material constraints etc) to the final finishing of the product.
WHY US?
We develop highly specialized products, based on our customer's specifications, using the most advanced technologies available in the industry. A look at some of our key strengths, that have contributed to our present day success, are:
Infrastructure: Process and equipment :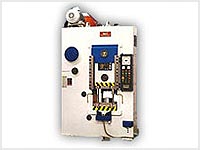 We have a sound infrastructure, equipped with highly modernized machinery and best technology. Some of the machines used by us are:
CNC Wire Cut Machine and VMC
EDM.
Drop Hammer
Knuckle Joint Press, etc.
The process used includes hot forging process that ensures durability as well as superior designing of all our products.

Product Development :
We are continually improving on our existing product range and are developing new products, to meet the customer's requirements and surpass their expectations. Innovative ideas from our employees and as well as diversified customer base continue to provide us with the competitive edge.


Industry Cognizance :
We are constantly in touch with the latest industrial developments and are able to capitalize on the profitable aspects. Our partnerships with the industry leaders further allow us to develop new solutions and meet the evolving needs of our clients. We end your search for hard to find parachute components and safety harness.
Universal Testing Machine (for proof load)
Vickers And Rockwell Hardness Tester
Metallurgical Microscope
Magnaflux Crack Detector
Plating Thickness Gauge, etc
Salt Spray Operators
ONLINE QUERY
For personalized and professional advise on parachuting equipment, please contact us and allow us to serve your needs. Send us the duly filled up query form and we will get back to you promptly.
CUSTOMER SATISFACTION
Our prime concern is customer satisfaction by providing our customers unmatched quality products at a specific time limit. This approach has helped us a lot in developing strong relationship with our present clients as well as gaining new customers. We have a well established network all across the globe and established ourselves as one of the most trusted companies. Moreover, we provide our range of products in accordance with our customers' required specifications.
PARACHUTE HARDWARE
---